GAINA – CERAMIC INSULATION TECHNOLOGY
■GAINA makes life more comfortable through "Heat Equilibrium"
■Cold Protection – Insulation/Heat Retention
■Heat Protection – Insulation/Heat Shield
■Noise Prevention – Soundproofing
■Odor reduction – Enhanced Air Quality
■Other Key Benefits – Condensation prevention, structural durability, safety, incombustibility
■The GAINA Evolution
■GAINA Date Guide
---
---
GAINA makes life more comfortable through

"Heat Equilibrium"
Everyone strives for year round comfort, but our lifestyles are influenced by stress of all kinds – from the blazing summer heat and bitter winder cold to unwanted noises and odors.
GAINA introduces innovative technology that suppresses not only extreme heat and cold, but offensive noise and odors as well. Summer or winter, day or night, GAINA removes the unpleasant aspects of your living environment, creating the comfort you deserve.
●Heat moves from high to low temperature areas.




①A glass of hot water is immersed in a pot of cold water.
②Heat moves from the higher to the lower temperature.
③As the heat escapes from the hotter environment in the glass, the temperature of the surrounding water increases. When the water temperature of both containers is equal, heat movement stops.
●Heat Equilibrium – ceramic bead layering technique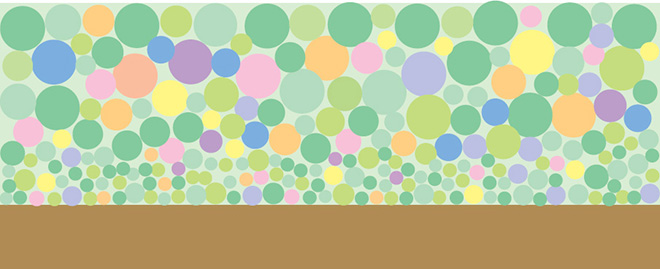 GAINA comprises layers of special ceramic beads. This special ceramic material is designed to adapt to the surround temperature, resulting in heat equilibrium and minimum heat transfer.
---
Cold Protection –

Insulation/Heat Retention
Heat escapes from low-temperature walls and ceilings even as room temperature increases. Use of GAINA minimizes heat movement, unifying the temperature throughout the house.
●Remains a comfortable 10ºC+ (75ºF+) at night…even after heat is turned off!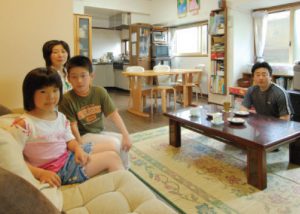 *Painted area: walls/ceilings – about 175m² (1,884 sq. ft.), exterior: about 173m² (1,862 sq. ft.)
Living in Nagano Prefecture, a region known as "snow country," this family explains,
 "We can say from experience that GAINA truly insulates during the winter months."
In the past, they used a powerful electric heating system with an oil heater during the day. They kept the oil heater going while they slept at night, but the room temperature still dropped below 0°C (32 °F) by morning.
  "After we painted this spacious room with GAINA, we only needed one heater. We turn the heater off at bedtime, yet the room temperature is never below 10°C+ the next morning."
GAINA significantly reduced the family's electric and gas bills.
●A warmer floor and less condensation!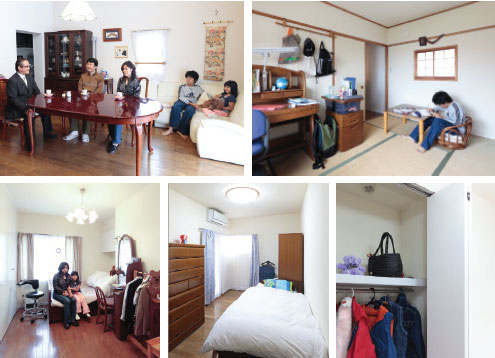 *Painted area: walls/ceilings, closets – about 115.1m² (1,239 sq. ft.)
After moving into their new condominium in suburban Tokyo, this family found the winters extremely cold. The condo's concrete foundation kept the rooms perpetually chilly, and even with insulation, the floors in the rooms facing north felt like ice. Condensation was also a constant issue. Their initial thought was,
 "We have to break down the walls and add more insulation in order to capture the heat"
but upon hearing that GAINA could make a difference, they decided to coat the  walls, ceilings, and inside the closets. The result was immediate. The rooms were warmer even in the winter, and condensation disappeared.
 "Before, we spent most of our time in the south-facing living room, but now the entire mansion is comfortable and we can enjoy using rooms on the north side as well"
says the family.
●Calorific Value Experiment: GAINA boasts small calorific values
●Temperature Adaptation Experiment: GAINA adapts to surrounding temperatures

①Two iron plates are placed side by side. The right plate is painted with GAINA, the left with regular paint. Both are exposed to hot air blasts from front-center.

②The temperature of the GAINA-coated plate starts to rise as indicated by thermography (screen changes from red to white).

③The temperature of the GAINA-coated plate continues to rise, while the plate coated with regular paint just starts to heat up.

④After the air blast is switched from hot to cold, the temperature of the GAINA-coated plate drops significantly, showing GAINA's ability to adapt to surrounding temperatures.
●Exterior coating prevents heat from escaping

Heat moves from higher to lower areas. With GAINA painted on exterior walls, the surface adapts to the surrounding temperature, achieving heat equilibrium and minimum heat movement. This phenomenon enables GAINA to keep the cold outside and the heat inside.

●Interior coating improves heat retention

Even when the internal temperature is high, heat can escape if walls and ceilings are cooler. With GAINA coating the interior, the temperature of the air and wall surfaces balance out, minimizing heat movement.
●GAINA helps improve your sensory temperature

On the left, the air temperature is 30°C (86°F), the walls and ceiling temperature 10°C (50°F), and the sensory temperature 20°C (68°F). In the GAINA-coated room on the right, even when the air temperature is the same 30°C, the walls and ceiling adapt and also maintain 30°C, and the sensory temperature also attains 30°C, a 10-degree increase.
---
Heat Protection –

Insulation/Heat Shield
GAINA's ceramic beads reflect the sun's infrared rays, allowing the GAINA-coated surface to adapt to the surrounding temperature and minimize heat transfer.
●Less humidity, comfortable living…even in the summer months!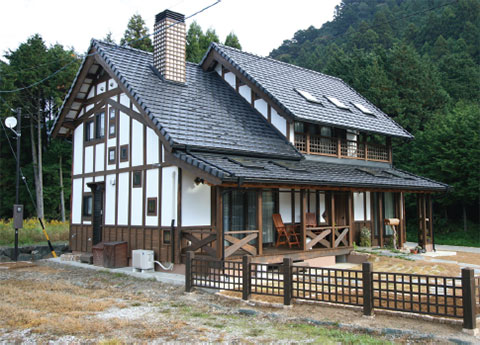 Painted area:
walls/ceilings – about 415.1m2 (4,467 sq. ft.);
roof (waterproof roofing) – about 160m2 (1,722 sq. ft.);
exterior – about 175m2 (1,884 sq. ft.) 
This couple built a house resembling a resort cottage in Aichi Prefecture. They painted GAINA on the exterior as well as on the interior walls and ceilings. The first thing the couple noticed was how refreshing the air was in the new home.
 "The air is not humid at all, even without the use of an air-conditioner; the house is very comfortable! Even the dehumidifying crystal packs we placed in the closets remain dry."
say the owners. The combination of GAINA's permeability and natural wood create a refreshing atmosphere. The insulation effect was greater than expected as well. In their previous home, the couple suffered during the hot and humid summers, but now they rarely need to turn on the airconditioner.

 "Every day is so comfortable, thanks to GAINA!"
says the satisfied couple.
●Cooler houses, reduced need for air-conditioners!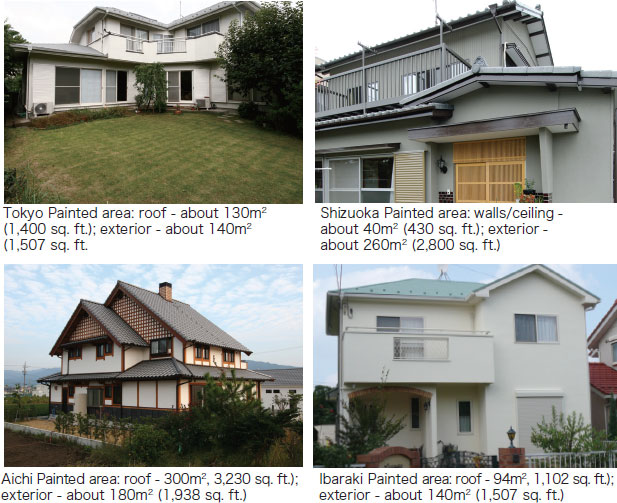 Many people have benefitted from GAINA's insulation performance. "It was so hot, we needed air-conditioning 24-hours a day," says one Tokyo resident. When a friend recommended GAINA, which offers superior insulation without complicated construction, this owner decided to his roof and exterior walls. Now his house is surprisingly cool. A resident of Shizuoka Prefecture says,
 "I don't feel the heat as much during the summer."
A home-owner in Aichi Prefecture, who couldn't stand the heat on the second floor of his house, says,
 "There is no major temperature difference between the first and second floors anymore. I can just open the windows and it feels cool."
One Ibaraki Prefecture resident measured the temperature of his roof after applying GAINA. He comments,
 "I was surprised to see that the temperature dropped more than 28°C(82°F)."
●GAINA's heat prevention mechanism

The sun's infrared rays repeatedly reflect off, bend around, and move around GAINA's ceramic beads, reducing the amount of energy entering the house(see the picture above: left hand side). The heat prevention materials in the ceramic beads also reflect infrared rays (see the picture above: right hand side).
●GAINA prevents external heat generation, cooling internal temperatures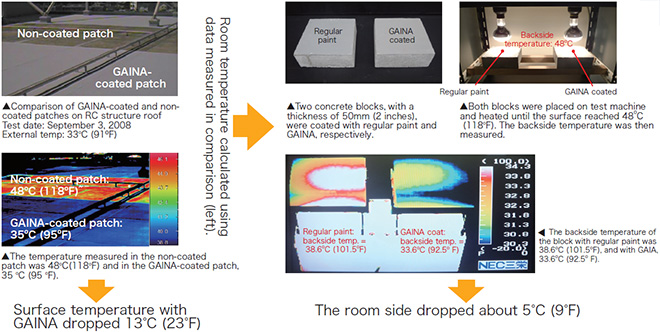 ●Air-conditioning improves with internal GAINA coating

Even when the room temperature is low, if the temperature of the ceiling and walls are high, heat can permeate inside. With an internal coat of GAINA, cool air from the air conditioner and GAINA-coated surfaces immediately adapt, keeping heat transfer to a minimum. (Same mechanism as Interior coating improves heat retention described above)
●Sensory temperature drops with internal GAINA coating

In the room on the left,
when room temperature is 20°C (68°F) and wall/ceiling surfaces are 40°C (104°F), sensory temperature is 30°C (76°F). In other words, 20°C (68°F) + 40°C (104°F) ÷ 2 =30°C (86°F).

In the GAINA-coated room on the right,
even when room temperature is the same 20°C (68°F) and wall/ceiling surfaces adapt to room temperature, sensory temperature remains at 20°C (68°F).

The difference is minus 10°C (18°F). In other words, 20°C (68°F) + 20°C (68°F) ÷ 2 = 20°C (68°F).

---
Noise Prevention –

Soundproofing
The GAINA-treated surface features a dense coat of ceramic beads which create a dampening effect to significantly reflect and reduce sound.
●Less noise from cars has made family conversation more fun!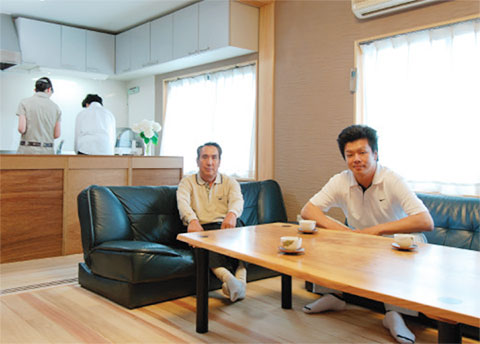 Painted area: roof – about 40m2 (430 sq. ft.), exterior – about 260m2 (2,800 sq. ft.)
 "We used to turn the volume on the TV way up so we could hear it"
says a family living in the suburbs of Hamamatsu City in Shizuoka Prefecture.
The street in front of the house deals with heavy traffic and cars fly by at high speeds. Making matters worse is a truck and heavy machinery rental company across the street, producing loud engine noises.
GAINA was the resolution to these problems. An external coating was all it took to reduce the noise. The family no longer has to turn up the TV volume to enjoy their favorite shows, even when sitting in the living room that faces the busy street.
 "Our conversations disappeared in the noise before, but now we chat more because we can hear each other very well!"
●The room is so quiet, even the sound of rain goes unnoticed!


Kanagawa Painted area: roof – about 90m2 (970 sq. ft.), exterior: about 156.95m2 (1,690 sq. ft.)
This Kanagawa Prefecture family chose GAINA because their children complained about the heat on the second floor every year as summer approached.
 "After applying GAINA, not only did the temperature drop but the noise level went down as well. It's quiet inside even when it is raining. Sometimes we have to hurry to bring in the laundry from outside because we didn't notice the sudden rain"
says the home owner.

Saitama Painted area: interior – about 39.6m2 (426 sq. ft.),
ceiling – about 19.8 m2 (213 sq. ft.), exterior – about 82.5m2 (888 sq. ft.)
Another family in Souka City, Saitama Prefecture, had trouble with noise as they are living near by a busy shopping district with lots of traffic.
 "After we added a GAINA coating, we realized how quiet it is at home. We don't even notice the noisy cars, which we suffer the most in the past."
●GAINA's special ceramic reflects sound and controls vibration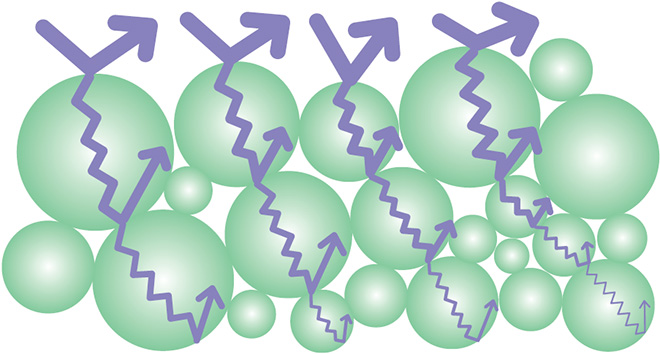 The GAINA membrane consists of many layers of hard ceramic beads filled with air. Sound is repeatedly reflected by the ceramic while being absorbed by the air. Sound that permeates the membrane is also reduced by the dampening effect of the ceramic layers.
●Dampening Test: GAINA absorbs vibration quickly

Sound is generated through vibration and transmitted as vibration. GAINA dampens vibration, achieving effective soundproofing. The three waveforms shown above express data gathered from the GAINA dampening tests carried out at the Hamamatsu Industry Experiment Station. The results show GAINA's superior capabilities of controlling vibration.
●Impact Sound Test: GAINA prevents sound generation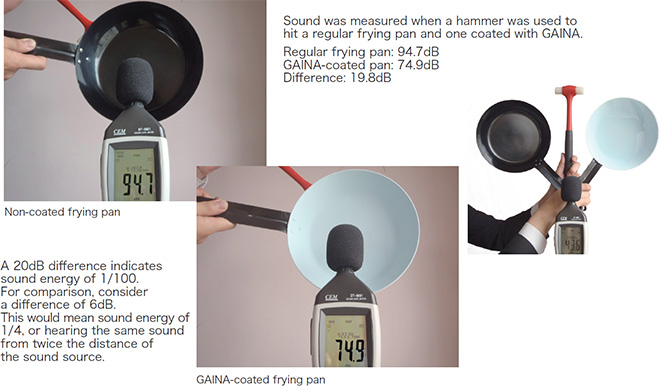 ---
Odor reduction –

Enhanced Air Quality
GAINA's electrostatic propensity of 0.0 prevents dirt from adhering to surfaces, while its ionized moisture fuses with airborne dirt and particles, reducing the amount of impurities floating in the room environment.
●Less cigarette and alcohol odors make for a more pleasant restaurant!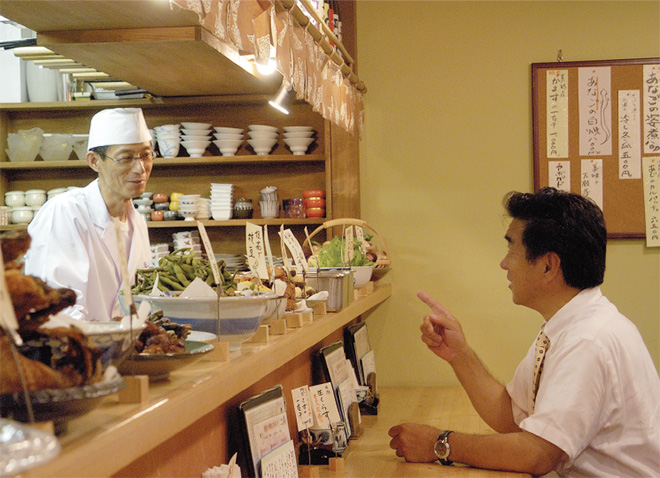 ※Painted area: interior walls – about 55m2 (59 sq. ft.)
 "Food and drinks taste better when the air is clean. I wanted to create a restaurant where the customer would feel refreshed"
says the owner of a Japanese restaurant located near Fujisawa Station in Kanagawa Prefecture. The owner found that providing a coat of GAINA to the interior of his new shop created a homey atmosphere. What surprised him most was,
 "the lack of alcohol and cigarette odors lingering from the previous day. I almost forget to ventilate the room!"
GAINA makes cleaning a breeze as it greatly reduces the amount of unwanted smells and dust that stick to walls, a common issue with restaurants. This restaurateur could barely hide his pleasure at the unexpected yet very welcome effects GAINA provided.
●Greatly improved air quality creates an atmosphere of living in the woods!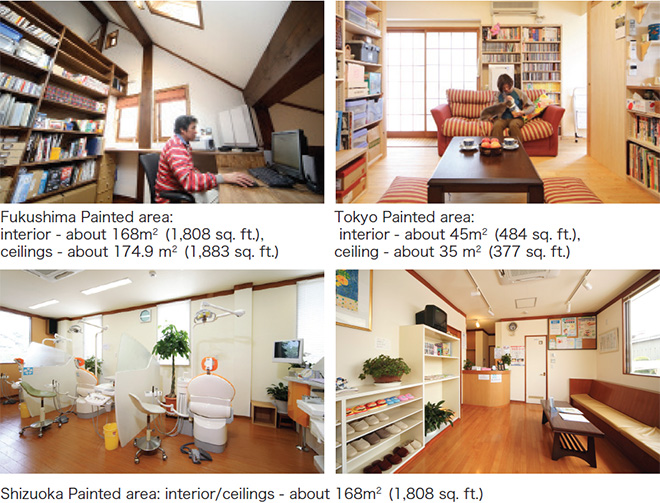 One family located in Fukushima Prefecture gave their new home a coat of GAINA to ensure it didn't become dusty, like their previous home. After living in their new home for a while, they were happy to find that,
 "it feels like we are living in the woods."
Another GAINA fan located in the north part of Tokyo was worried about odors in his condo. After renovating his condo and adding a coat of GAINA, he was pleased with the results.
 "After applying GAINA, my home smells great and is so comfortable."
The owner of a dental office in Fuji City, Shizuoka Prefecture, used GAINA to improve the air in his offices and help patients feel more relaxed. He has since received many compliments from patients commenting on the comfortable atmosphere.
●Prevents odor and contaminants from floating in air and adhering to walls.

Dust, dirt, pollen and other common airborne contaminants gain positive electric energy as they float in the air, which prompts electrostatic adhesion to walls and ceilings. GAINA's electrostatic propensity of 0.0 prevents dust, dirt, and pollen from adhering to surfaces, while its ionized moisture fuses with airborne dirt and particles, reducing the amount of impurities floating in the room environment.
GAINA's Effect on Creating Air that Makes You Feel Good
By Dr. Teruo Iwasaki, Doctor of Education (Preventative Medicine)
The special ceramic beads featured in GAINA emit infrared radiation when heat or light energy is received, due to the ceramic's extreme infrared radiation emission capacity. This capacity activates water molecules in the room air, creating negative air ions. The negative ionized moisture in the air is able to purify dust, dirt, and pollen present in the air. Our bodies also consume this negative ionized moisture in the air when we breathe. This effect is created when the interior of a room is coated with GAINA, generating the ideal quality of air for human consumption. In other words, GAINA creates " air that makes you feel good," thus establishing a comfortable living environment.

When considering air quality, it is important to evaluate the balance between positive and negative ions. It is often said that positive ions are bad and negative ions are good, but the truth is, it is essential to have a good balance between the positive and negative ions in order to benefit from the negative ones. This has been verified through air quality control measures used inside spaceships. The ideal balance of the two kinds of ions will restrain the growth of toxic substances and germs through oxidation and restoration, resulting in excellent air quality.

Ion balance measurements taken in a room that has been applied with a coat of GAINA showed that the room, previously containing significant amounts of positive ion and dust particles, presented favorable counts of negative ions and significantly less dust and dirt, bringing the atmosphere much closer to the ideal level. I find the effect of GAINA achieves in improving room air quality and making comfortable living conditions highly valuable and hope many people benefit from GAINA's ability to enhance our lifestyles.

Dr. Teruo Iwasaki
Ph.D. in Education (Hokkaido University) Born in Matsue City, Shimane Prefecture. Proposed, planned and administered "Cure-house"as a type of balneotherapy, or hot spring therapy, and "Forest Bathing" as a forest therapy, while working in a complementary function for the Ministry of Welfare, the Ministry of Agriculture,Forestry and Fisheries, and the Ministry of the Environment. He also measured distribution of negative air ions all over Japan in forests cultivated by Centenarians, and is currently creating a map the results. He is also focuses his attention on the deoxidizing sterilization of negative air ions and is involved in measures to prevent Legionella pneumophila and sick-house syndrome.
---
Other Key Benefits –

Condensation prevention, structural durability, safety, incombustibility
Condensation prevention
GAINA prevents condensation by restraining heat movement, creating a more comfortable lifestyle.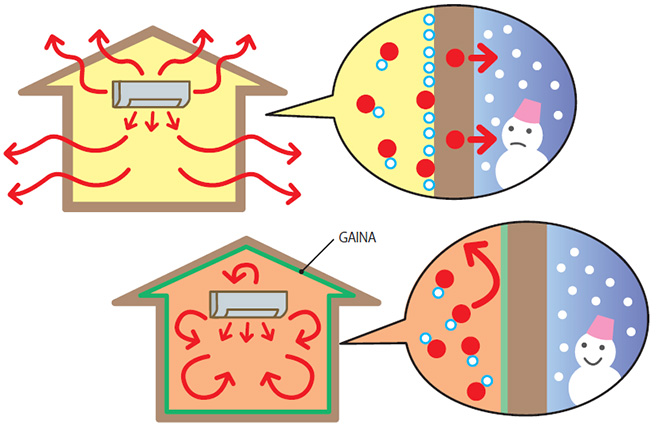 (Same mechanism as Interior coating improves insulation)
There are many places inside a house — ceilings, walls, windows, closets — that are prone to condensation. This phenomenon is usually generated when atmospheric heat permeates windows and walls. Heat moves from higher to lower places when there is a difference in temperatures. Thus, condensation occurs in colder areas such as windows and walls. GAINA creates a film that adjusts to surrounding temperatures. GAINA-coated surfaces quickly take on a temperature similar to that of the room air. With a smaller difference in temperature, there is less heat movement, and less condensation will be occurred.
Durability
GAINA helps buildings last longer.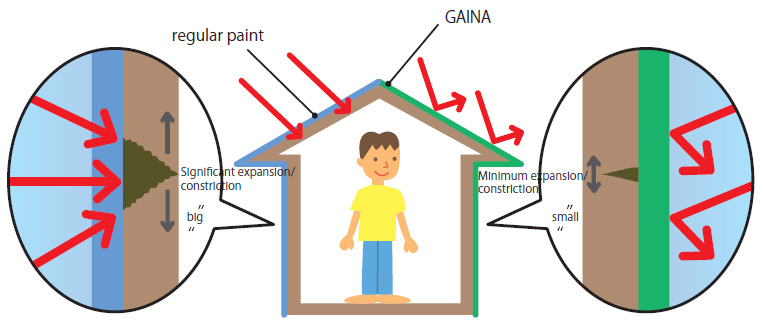 GAINA boasts many ceramic layers that provide the strongest resistance to ultraviolet rays, creating a coating that is lasts 2 to 3 times longer than regular paint. GAINA's insulation and thermal barrier capabilities also suppress the expansion and constriction of structural materials. Anti-ultraviolet durability, as enabled by GAINA, is evaluated based on infrared ray absorption rates.
▼Anti-ultraviolet ray durability based on ultraviolet ray absorption rate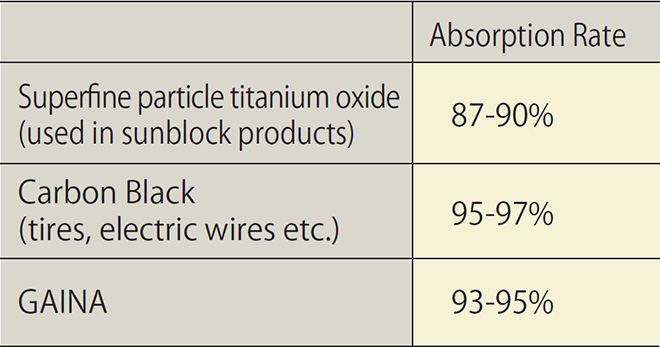 ▼Xenon 2000-hour compound cycle test (color: light gray)

Safety
Water-based GAINA is reassuringly safe
GAINA Interior

received grade F☆☆☆☆.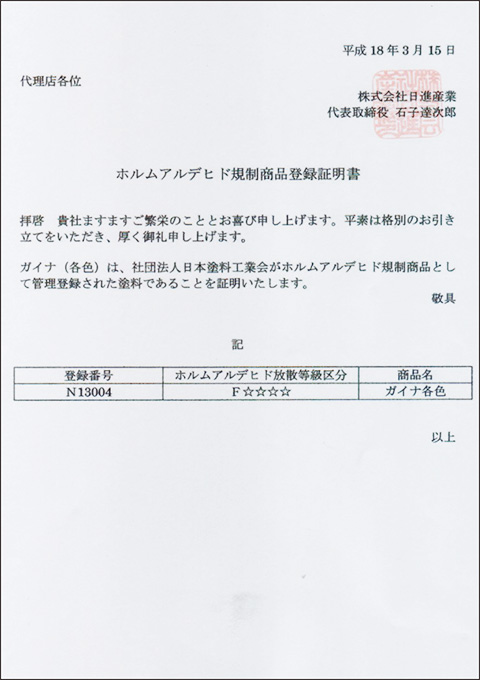 Registration Number: N13004 (Interior GAINA)
GAINA is water-based and contains no organic solvents or any other hazardous materials. In fact, GAINA Interior (specially developed for interior use) received grade F☆☆☆☆ (four stars) for room air quality safety measurements (see table below).
●Emission rate analysis result of Aldehyde and Volatile Organic Compound (VOC) from sample
(Sample name: Interior GAINA)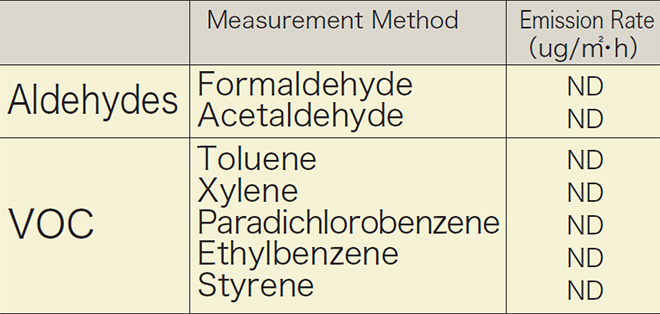 (Sample name: Interior GAINA)

As the original GAINA can also be used as an exterior paint, it does not qualify for grade F☆☆☆☆, yet it holds the same level of safety evaluations for aldehydes and Volatile Organic Compounds, as seen in the table above.
Incombustibility
GAINA is certified incombustible by "Ministry of Land, Infrastructure, Transport and Tourism"
Building materials are categorized into three qualification ranks of  incombustibility set forth in a governmental ordinance:

・incombustibles

・quasi-incombustibles

・fire-retardant materials.
GAINA is certified as an incombustible, the highest ranking, by the Ministry of Land, Infrastructure, Transport and Tourism.
---
The GAINA Evolution

Integrating aerospace technology, GAINA brings comfort and safety to not only residential homes and apartments, but also large-scale factories and other structures, as well as camping cars, portable toilets, and other applications. We continue to develop GAINA, expanding its range of utility.
(Photo provided by independent administrative institution, Japan Aerospace Exploration Agency.)

The Japan Aerospace Exploration Agency (JAXA)developed insulation paint to coat the tips of rockets, protecting both rockets and satellites from atmospheric heat.

(Data provided by independent  administrative institution, Japan Aerospace Exploration Agency)

Converted to civil use

                                          
GAINA is a product developed and manufactured for consumer use by Nissin Sangyo, Inc., integrating aerospace technology.
---
GAINA Data Guide
Various data spotlight GAINA's performance that results in energy-saving effects and cost reductions. GAINA relieves the stress from summer heat, winter cold, and many other lifestyle issues, bringing more comfort to all.
GAINA boasts many lifestyle-improving functions, including protection from the summer heat and winter cold. These functions are backed by strong data, proving energy-saving and cost-reduction benefits.
●Physical Data

●10-year total cost difference(paint cost less energy-saving effects)

*First line: figures calculated from coating on warehouse batten seam roofing(picture shown below) in Shiki City, Saitama Prefecture; (1,300m2/14,000 sq. ft.)

     ▼Economic benefit of GAINA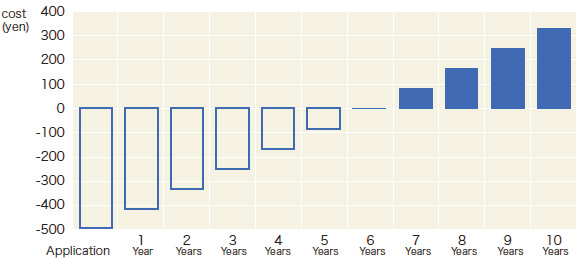 Although initial costs are higher, use of GAINA reduces maintenance costs of facilities (warehouses, buildings, etc.) over time due to its energy-saving effects. Its many hidden economic benefits can be seen in this warehouse, which now uses fewer air-conditioners and no longer needs sprinklers on the roof in the summer, resulting in less damage to the building. Use of GAIA achieved a reduction in CO2 emissions of some 189.6 tons (424,704 lbs.), the equivalent of the amount produced by 40 families in one year. (Source: National Institute of Environmental Studies).
●One coating remains effective for 10 or more years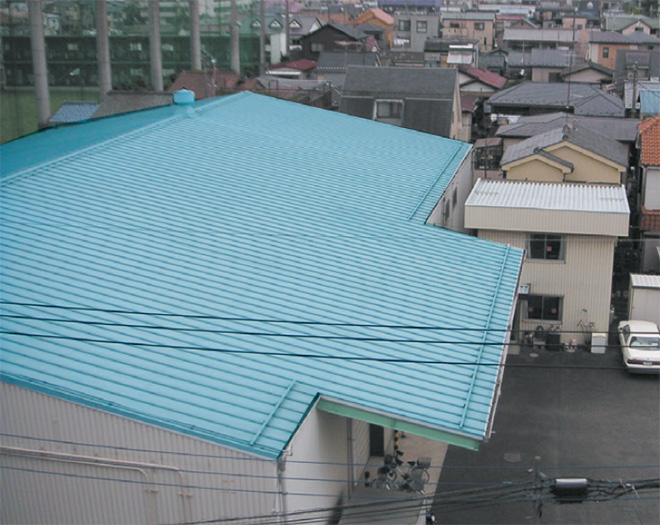 Date applied: May, 2000
Location: Shiki City, Saitama Prefecture
Coated area: batten seam roofing
Color: Light Blue (69-70L)

Effects:
●Temperature lowered 15°C (59°F) on the second floor
● No need for sprinklers on the roof during summer
● Need for air-conditioner is now down to 1 from 4
● Heat efficiency is up during the winter
● Repainting cycle is longer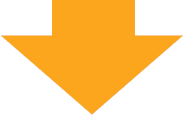 Total cost savings is about 8.2 million yen over 10 years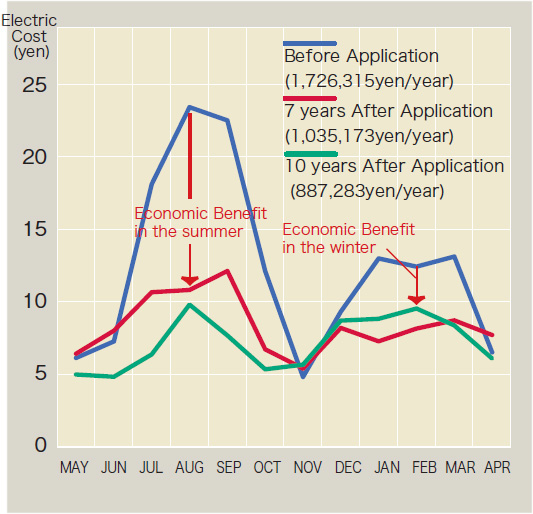 Electricity Cost Transition
●Cool rooms without air-conditioners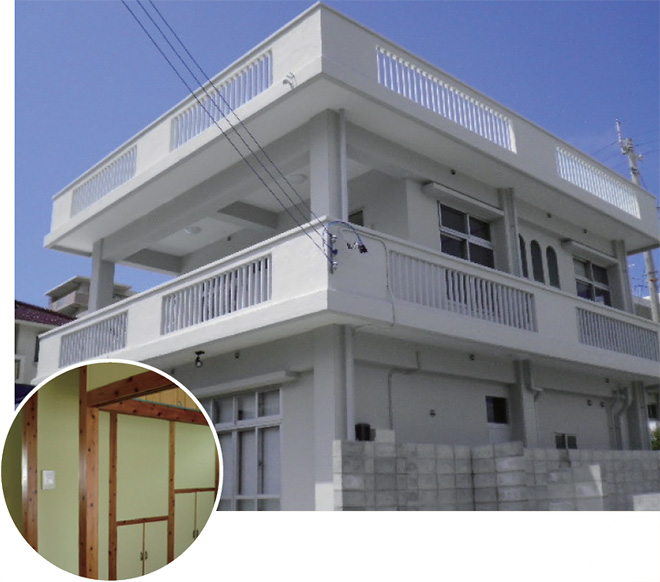 Date applied: August, 2010
Location: Ginowan City, Okinawa Prefecture
Coated area: roof, exterior, interior
Color:White (N-90) Yellow-Green (32-90D)
Effects
● Room temperature was reduced to less than outside temperature
● Cooking odor in the kitchen is less obvious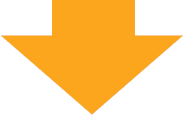 The room temperature was about 4°C (7.2°F), higher than outside, but after applied with GAINA, it dropped to below outside temperature.

Comparison: Before and after GAINA application in summer
●GAINA generates benefits in winter too!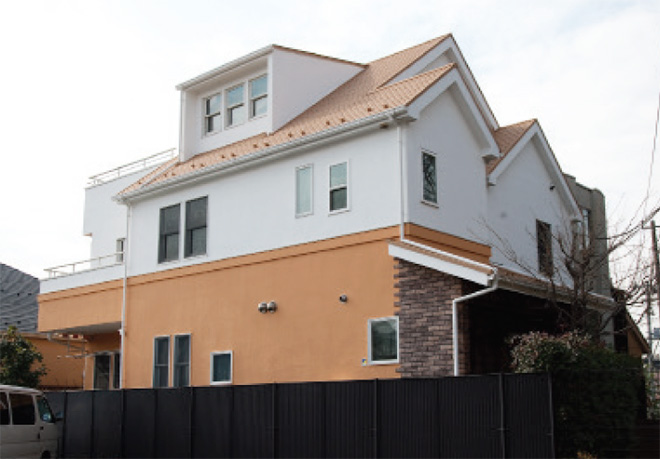 Date applied: August, 2008
Location: Shibuya Ward, Tokyo Metropolitan
Coated area:
roof (about 193m2/2,077 sq. ft.),
exterior (about 193m2/2,077 sq. ft.)
Color: White (N-95) Beige (17-60H)

Effect
●The appearance of a 10-year house renewed beautifully.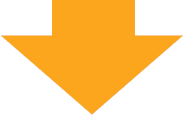 Electricity costs for heating reduced by 27.1%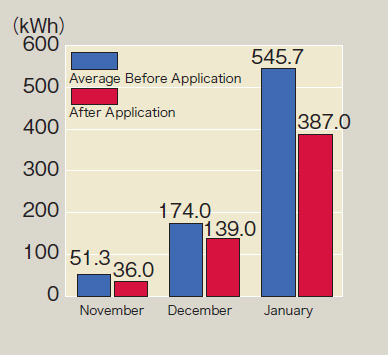 Electricity Usage Comparison
●More effective than insulation materials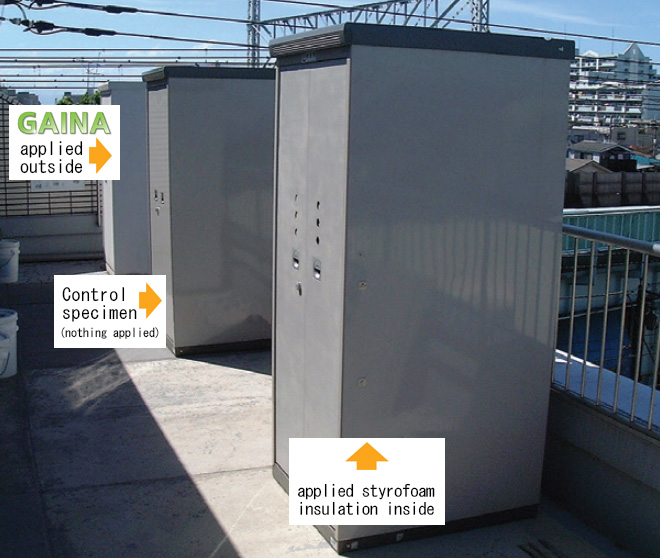 [Test Outline]
・Comparison of internal temperatures for 3 sheds during the summer.
・Period: July 20, 2005 to Aug. 31, 2005

[Measured Term]
・From July 20th, 2005 to August 31st, 2005

[Shed Specifications]
・Size: Height 1920mm (6'4") × Width 800mm (2'8") × Depth 900mm (2'11")
1. Shed without any paint (control specimen)
2. Shed with styrofoam insulation (25mm/1") on walls and the ceiling
3. Shed with GAINA applied (exterior)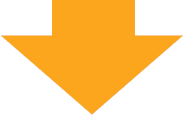 GAINA ensures lower temperatures during day and night
●Temperature transition on the day of experiment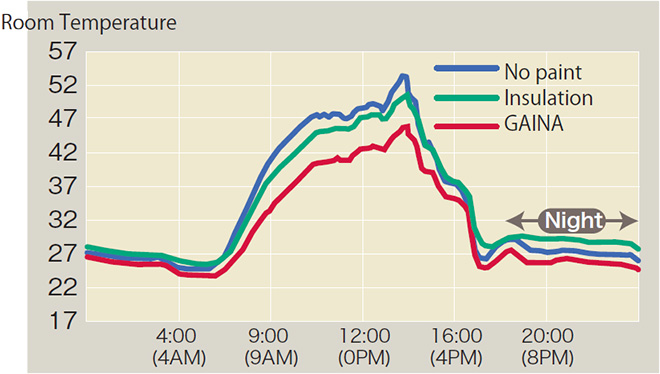 *Insulation material retains heat, making it ineffective in reducing internal temperatures. GAINA is able to lower temperatures during the day and night. (Night time: from 7p.m. to 5a.m.)
●Air temperature rises when heater is in operation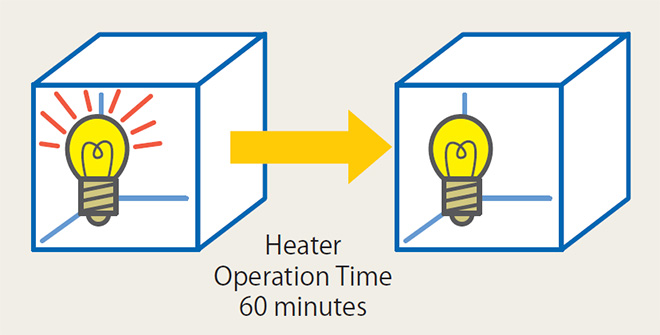 [Test Outline]
Comparison of internal temperatures for 3 sheds with heater in operation.
[Box Specification]
Size: 400mm (1.3') cube
1. Box without any insulations
2. Box with polystyrol insulation (20mm (3/4"))
3. Box with GAINA applied (interior)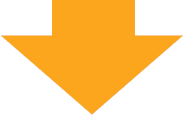 With the GAINA coating, the heating effect starts immediately after the heat source is in operation, rapidly warming the room.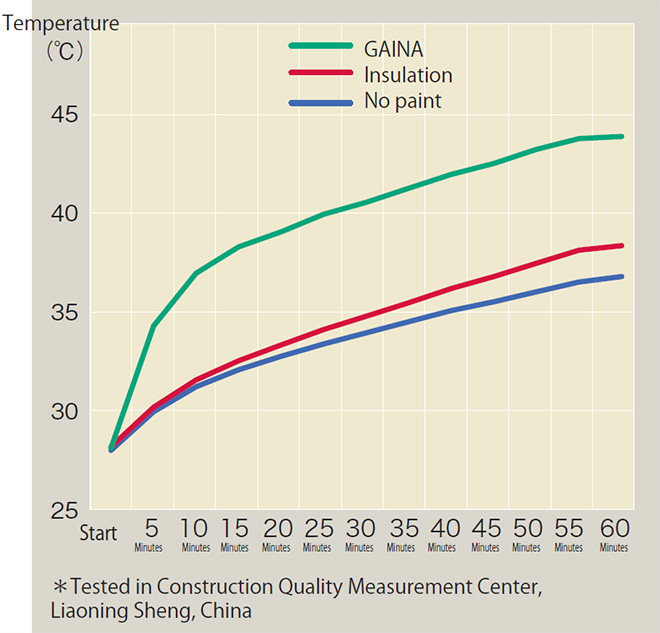 Transition of Internal Box Temperature
●Maintaining heat in a hot air conveyance duct

GAINA achieves effective insulation by creating even layers of heat shielding, regardless of the object's(conveyance duct) shape.
---
Eco Expo Asia 2017
International Trade Fair on Environmental Protection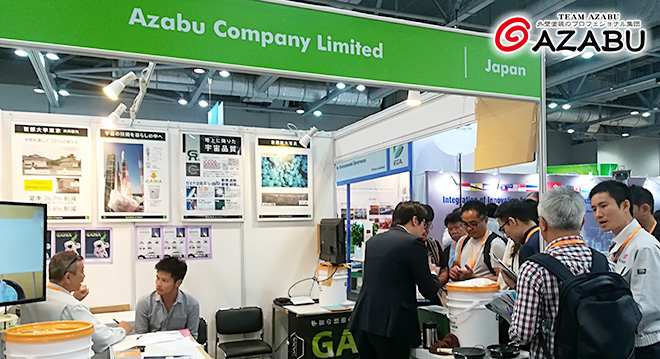 Thank you very much for visiting our booth at the Eco Expo-Asia in October.